Smarter way to clean up
(Courtesy of Herald Sun 28 July 2005)
by Claire Heaney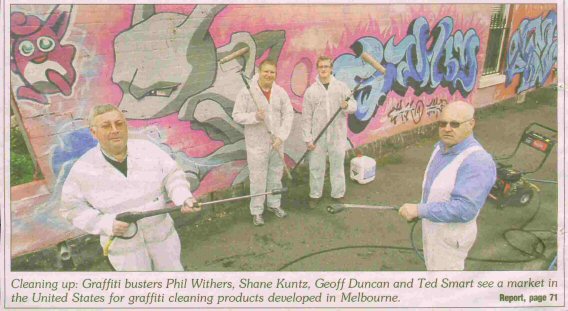 FIVE years spent running a maintenance business with 18,000 rental properties on the books gave Ted Smart an insight into the problems caused by graffiti.
After he sold the maintenance business he took a break and looked for a new venture and soon settled on cleaning graffiti. While there were countless products on the market, he believed few were effective. He enlisted the help of industrial chemist Peter Wood to come up with some solutions. Five years down the track his company, Smart Distribution Services, has just signed a big deal to supply the Smart Graffiti Kill and cleaning products to the US market.
Along the way Mr Smart also recruited his friend Phil Withers, as part-owner in the business. Mr Withers, who worked in human resources, jumped at the chance to join his friend of 30 years in the enterprise. He joined the business in April last year, buying a 50 per cent share in September. As graffiti comes in many forms, Mr Withers concedes there's no one product to tackle it. His flagship product, Smart Wipeout, accounts for about 60 per cent of sales. The product tackles graffiti on bare or painted brick or concrete. It is sprayed, painted or brushed on the affected area and then washed off after about a minute, using a high pressure hose.
Other Smart products have been tailored for specific graffiti problems. For instance, one cleaner is used in schools to remove Texta from lockers and cabinets. Another is used to remove graffiti from marble while yet another removes graffiti from metallic road signs.
The company now employs five staff but the new deal to the US might see things get even busier. The US deal came about after a picture and small story appeared in the Herald Sun last year. It was seen by staff at a painting and decorating company in Denver, Colorado. Pretty soon the firm's president, Bob Kuntz, was making inquiries about the Smart range. Mr Kuntz's company was constantly looking at tackling graffiti. "Bob came out with his son, Shane, in March this year had a look at it for five days and was gobsmacked," Mr Smart said. When Mr Kuntz returned to the US he bought every graffiti removal product he could find to assess how the Smart range stacked up. "Not one of them, came up with anything comparable with Wipeout," he said. Mr Kuntz then began negotiations to take up a 10-year lease of the products to supply them in the US and Canada. Shane Kuntz is back, in Australia to finalise the negotiations and receive training in the use of the products.